An American Tree Sparrow, a gorgeous little bird -- not uncommon in other parts of B.C., but rare here on Vancouver Island. I saw it on one of our favorite walks, around the sewage lagoons.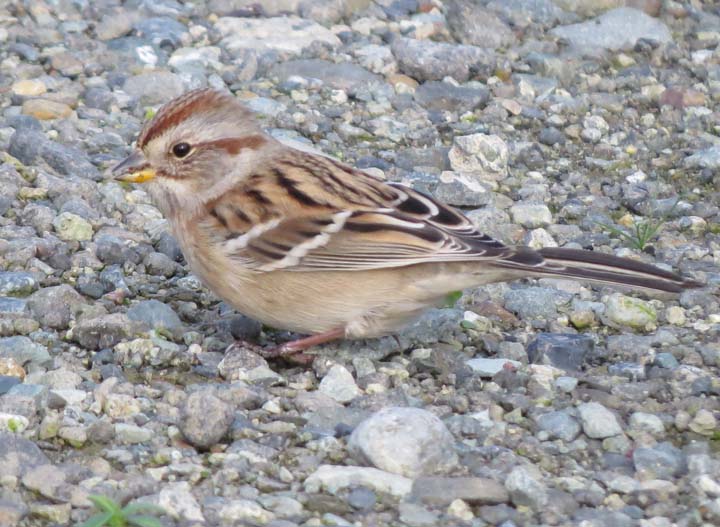 It was hanging out with the Gold Crowned Sparrows. Seeing them side by side, you can see how tiny the Tree Sparrow is in comparison.
We were in Fanny Bay when I saw this next one, I just thought it was some sort of loon. It was about that size. It wasn't until I reviewed the images that I realized this was a Red Necked Grebe, the first one I've ever seen. And there were two!
The water was full of tiny fish, which is what had drawn the grebes so close to shore.
After we headed home from Fanny Bay, we stopped in at the viewing station in Qualicum. I was taking photos of the Harlequin Duck when this gull just dropped into the frame. Because of the light colored eyes, I thought it was a Ring-billed. But the bill looked strange, and it seemed unusually pale -- paler even than the Glaucous Winged Gulls that are so common, and the bill seemed strangely stubby. After consulting with the folks at iBird, I had a tentative ID -- an Iceland Gull -- another rare bird in these parts. That ID has not been officially confirmed yet, but I made a rare bird report and have had it tentatively confirmed as a Kumlien Iceland Gull. Now it has to go before a review board. The alternative ID would likely be Thayer's Gull, which would also be a first for me, though it is quite common. I've just never seen a Thayer's before because I tend to ignore gulls.
Because a look at the upper wings would confirm the ID, I went back a few days later, not really expecting to see this same individual again, but hoping it might be still in the area. Instead, I found a flock of Thayer's Gulls, some with light eyes, and this one that was paler on the back and wings, but none that had the strange, stubby bill of my possible Iceland.
To convince my self, I did a Google search for images of the three most likely species suggested by the folks at iBird, the Iceland Gull, the Thayer's Gull, or the Olympic Gull. Individual bill shape can vary between individuals, just like noses with humans, but the difference seems just too great to me for it to be either a Thayer's or an Olympic. The Iceland is the closest, not only in bill shape, but in head shape as well.